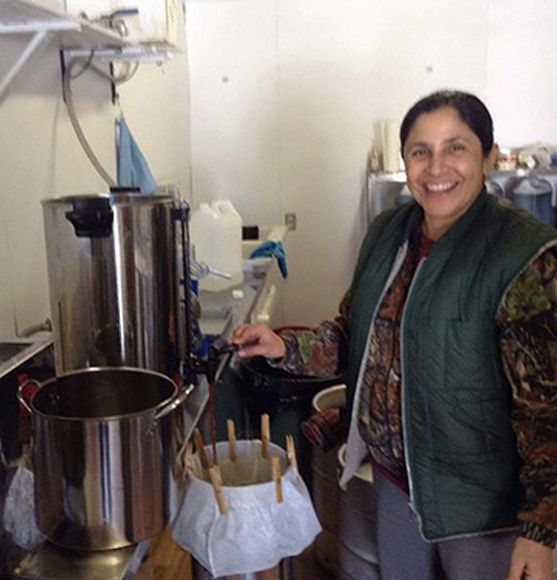 In spring, families can visit the sugar bush and learn the history of maple syrup and glimpse first hand the boiling of the sap (sweet water) and the making of maple syrup.
Maple syrup history goes back thousands of years and coincides with the arrival of spring, warmer weather and the "Maple Moon." The sugaring-off period, or maple syrup festival time, is unique to North-Eastern North America.
In Canada, production is primarily in Ontario and Quebec, with some in the Maritimes. Many products are made from the syrup including maple butter, maple taffy in the snow, maple walnut ice cream, cured maple bacon, maple fudge, and a variety of desserts such as baked apples with maple syrup, always a family favourite.
– For firm apples, use Royal Gala or Fuji apples.
– For softer baked apples, try Cortland apples
INGREDIENTS
6 whole apples, cored;
1 cup (250 ml) maple syrup;
1/2 cup (125 ml) granulated maple sugar;
1/2 cup (125 ml) golden raisins;
3 tbsp (45 ml) unsalted butter, cut into pieces;
A pinch of salt.
PREPARATION
Preheat the oven to 180 °C (350 °F).
Using a paring knife, trim about a 1/2-inch slice from the bottom of each apple, so they sit flat.
Place the apples in an ovenproof skillet or 8- to 9-inch baking dish.
Cover the apples with the maple syrup.
Combine the maple sugar and raisins.
Divide the mixture between the apples, filling the core cavity. Top with a pat of butter.
Place the apples on the middle rack of the oven. Bake until tender, approximately 45-50 minutes.
Serve with ice cream, or continue to create a drizzle from your apple bake. If you used a baking dish, pour the liquid into a skillet. Over medium heat, reduce the apple syrup until it slightly thickens, about 3 minutes.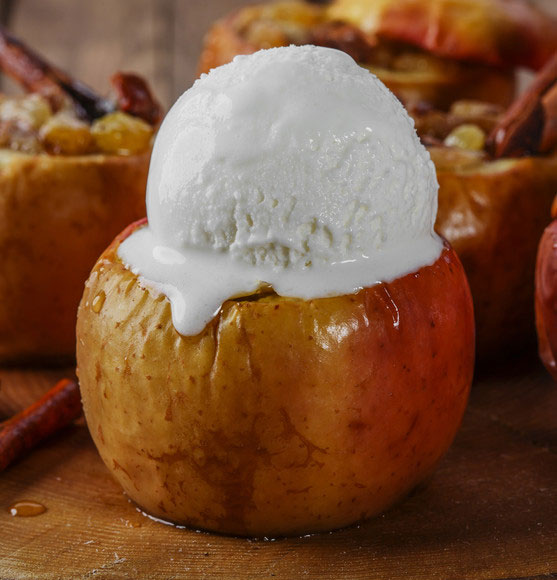 Maple Butter Tarts
Make your own delectable custardy tarts instead of buying them. Our main ingredient is maple syrup in place of corn syrup. This variation includes chocolate and pecans instead of raisins. From CANADIAN LIVING.
Blueberry Sweetgrass Vinaigrette
Mohawk Chef shares her blueberry sweetgrass Vinaigrette recipe. The best way to add more Indigenous plants to your diet is learning what is edible in your own backyard. From CHEF TAWNYA BRANT
Maple-Chipotle Popcorn
Stove-top popcorn always trumps microwave popcorn. This spicy, maple-based version is guaranteed to become a snacking staple. From FOOD NETWORK.
Baby Spinach BLT Salad
Adding maple syrup to the dressing just might be enough to tempt a salad-hater to give it a try. From TODAY'S PARENT
Maple Old-Fashioned Cocktail
This twist on the classic whiskey cocktail is the perfect companion to the fall season. Perfect cocktail after a long hard day. Relax and Cheers. From EPICURIOUS
Slow Cooker Maple Pork
The flavoris in the ingredients: maple syrup for sweetness, apple cider vinegar for some tanginess, chili powder for a little dimension, and salt to balance it all out. From SWEET PEAS AND SAFFRON.